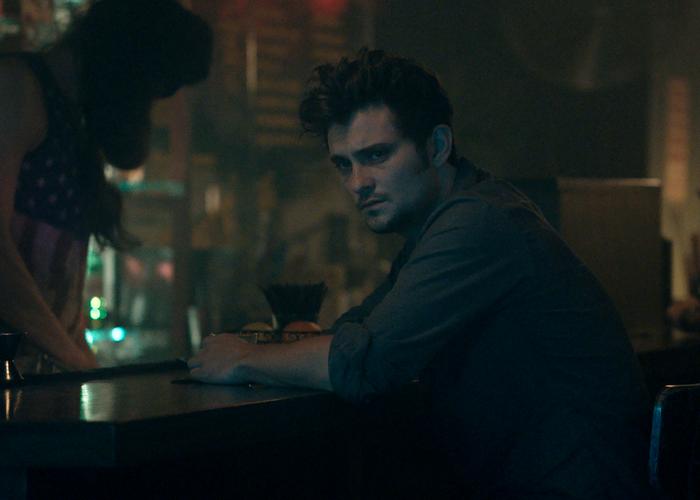 "When I first read the script I was like, so this is just a movie about a guy going from woman to woman?" Cassandra Freeman said after the world premiere of Long Nights Short Mornings at SXSW. "No, thank you."
Actually, Freeman ended up taking the part. But with the notable exception of her character, Brooklyn-based writer-director Chadd Harbold's second feature pretty much is a movie about a guy going from woman to woman. Think of it as the dramatic counterpart to his 2013 comedy, How to Be a Man. That one, in which Gavin McInnes taught his kid how to be a grade-A a douchebag, milked the male id for laughs. In this one, Shiloh Fernandez plays James, a man-about-town who is probably the most miserable slave to his id since Michael Fassbender's character in Shame.
No, James doesn't end up weeping in the shower after getting blown in a gay bar. But his low point does occur to the tune of techno. It happens around the time he goes to Bossa Nova Civic Club and tries to get in on a bathroom coke sesh with a couple of underage girls, only to get called out for being the creepy old dude. This is the Bushwick version of rock bottom, folks.
Long Nights Short Mornings is framed as a series of vignettes. In each, James has a romantic entanglement (or disentanglement) with a new woman, or sometimes an ex. He's not the worst guy in New York— more like the guy women think of when they say dating in New York is the worst. He's allergic to commitment, not the best listener, more than a little insecure, but attractive and sauve/manipulative enough to clock digits even when he's not sure if he really even wants them. He's the kind of guy who borrows a girl's favorite book and then lends it to another girl.
At times, James is The New York Bachelor Who Yearns For Something More – the man who grapples with "isolation, regret and the feeling that, although you may still feel 25 in your heart, your knees are starting to ache and the years are slipping by fast," as the Times so memorably put it. But why would James consider settling down when he can always booty-call his fallback, the moneyed coke vixen who wants to hook him up with a threesome? I mean, she has a baby grand in her apartment.
For the most part, these vignettes are tightly focused, via long takes, on James and his partner at the time, whether she's a struggling cabaret singer who is reluctantly lured back into his arms, or the platonic friend who finally hooks up with him despite knowing it's Bad Idea Jeans, or the older, seemingly manic coworker who toys with him despite being in a relationship.
Occasionally the milieu broadens and we meet some New York characters beyond just these lonely souls who are stuck in Tinder purgatory: McInnes, of Vice and Street Carnage infamy, reprises his role in How to Be a Man and cameos as a standup comic riffing on – what else? – threesomes. And then there's the hipster host of a party in what looks like a Bushwick loft, who brags about working with a pair of artists who had plastic surgery in order to morph into each other.
During the q&a, Harbold, a 29-year-old Tisch graduate, revealed that this mustachioed manchild was based on a friend who worked with (you guessed it) Genesis and Lady Jaye Breyer P-Orridge. Speak of the devil! Harbold's instructions to the actor were clear: "Watch this documentary and talk about them as if you worked for them and be a douchebag.'"
Douchebag is definitely the order of the day in Long Nights Short Mornings, though James is at least a somewhat repentant one. But rest assured director Chadd is no chad. While introducing the movie, he thanked his girlfriend.